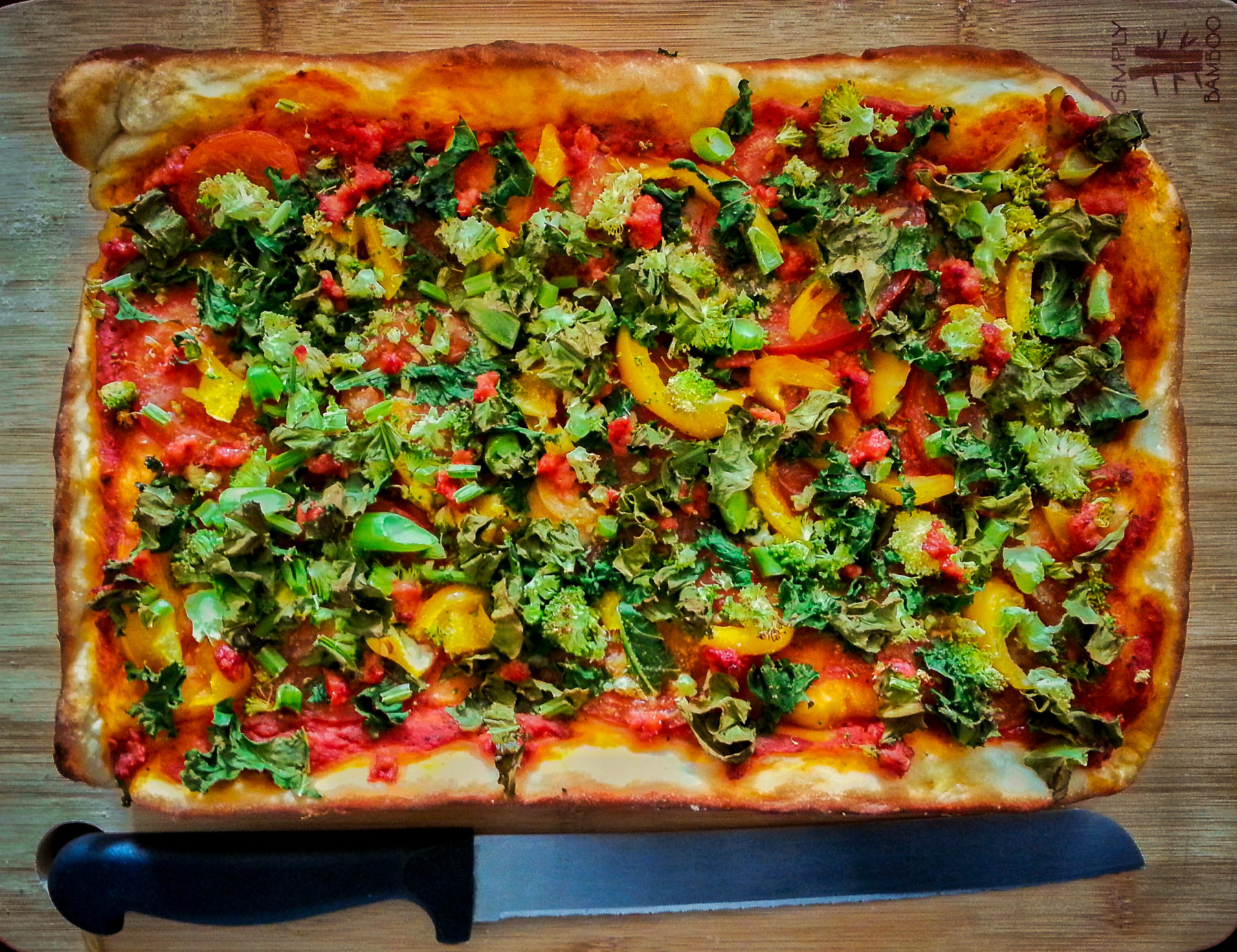 Well, this is something different to put on my blog.
Okay, a bit of background, I was having a few people over. Decided to make pizza and like they say: Necessity is the mother of invention.
I wanted to offer my guests something different and if I could, make something they had never quite had before. Thus, this pizza was baked. Just as a quick note, I have been baking for quite sometime now so these days I do not measure anything anymore as I just go by sight and taste. As such, I am going to defer to you to do a bit of the same so you can match your tastes. Also, since I ended up making more, not all pizzas were exactly the same but more so to match my guest's tastes. Also, I am going to try to cut the recipe down to just the one pizza you see above. So let's jump right into it:
INGREDIENTS
12 X 8 inch metal baking pan
White flour as needed (3 cups)
2 1/4 tsp. of quick-rise yeast
2 1/2 tsp. of sugar
1/2 tsp. of salt
1-2 cups of water, weather/humidity dependant
1 large yellow pepper (or red, not green)
1 bush of kale
1 broccoli stem with florets
2 tomatoes
3-4 already cleaned heads of garlic
3-6 stalks of  cleaned Gai Lan (chinese broccoli)
4 ounces of minced lean grounded pork (more if you want to)
Garlic powder
Tandoori powder or sauce
Yellow curry (powder)
Paprika
Can/bottle of tomato/pasta sauce, 425g+ — Get one with herbs included for extra taste. 😉
Good quality olive oil
Pink Rose Salt
Optional:
Green Onions both the bulb and the stack
Fresh cloves — not dried
2 cups of 50/50 grated cheese, either Old Cheddar, Swiss or Mozzarella, although I hardly ever use Mozzarella. That's for pizzas I buy when I am out.
Oyster sauce as dipping sauce. Add a few drops of water to mild the saltiness.
DIRECTIONS
Take 2 cups of the white flour into a large mixing bowl, make a doughnut, thus you can see the bowl in the middle and in it add the 2 1/4 tsp. of quick-rise yeast, 2 1/2 tsp. of sugar, 1/2 tsp. of salt 1/2 cups of water and mix. You want a consistency where all the water is absorbed and the flour is NOT sticky but a touch bouncy. If you press your thumb on it and if you can see the exact indentation, then you have used too much flour. Add water or flour as needed to get this consistency while you continue to mix. Once achieved, knead for 10 minutes, and lightly coat with flour if it is still too sticky. Put aside and very gently brush oil on the dough as to not let it dry, cover bowl and work on the veggies.
Chop your veggies as per taste. Take your tomato sauce, which for the pizza above I used between 1/3 – 1/2 of the bottle/can  and mix with yellow curry to taste. Remember that curry goes a long way so you do not have to use a lot and you just want a hint of it. Put aside.
Take your pork and mix in the paprika and tandoori to taste as well. The same as above goes for the tandoori, you do not need too much. Once the pork is evenly marinated, put aside. You can either quickly sear it for a few seconds on a hot pan before putting on the pizza or you can put it raw, trust me, either way, it will be fine.
Evenly yet lightly, oil your baking pan, take the dough which should have risen a bit and knead it for an extra 2 minutes. For an extra crispy pizza add one extra 1-2 tsp. of extra olive oil on the pan, disperse evenly. Flatten your dough on pan, add your sauce, a touch of pink salt and powdered garlic to taste followed by the cheese on top. Add all your veggies and sprinkle the pork, in tiny bits as the top layer.
Quick note: If you want your veggies to be more crisp, then layer your veggies from heaviest to lightest, weight-wise. If you want otherwise, reverse the order.
Preheat up your oven to 425F and place your pizza in. If you want crispy, leave in for 20+ minutes. For a bit softer, then for about 17+. Don't worry about the pork, if you sprinkled as mentioned, due to its small individual size, it will cook through.
Take out, cover for 5 minutes with a cloth, take out of the pan, serve and ENJOY!
Let me know how it goes!